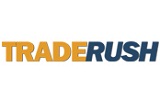 Every successful binary options broker has an ace up his sleeve – something that made them succeed where so many others have failed. Some rely on speed, others offer cash incentives. TradeRush, however, relies on its superior customer service to secure its client base. Indeed, these guys will pamper you to obscene wealth and success, if you let them; all you need to do is bet correctly. And 'the customer is always right' – is what I'd like to say, but this is a UK broker, and they follow different rules. You can trim and customize your account and your trading experience to your heart's content, but first and foremost, you need to sign up. And on that note…
Site
TradeRush homepage offers a straightforward, no-nonsense approach to binary options. Apart from the standard account-related features, their menu offer a selection of market reviews and education tools, including an eBook, Video Academy and some basic courses. Another cool feature is the 'Asset Index' where you can quickly familiarize yourself with every single financial instrument they have on offer: every commodity, currency, stock, indice or pair has its own short entry. And that is it; no boring ads, no silly mascots popping up in your face, just some instructions on how to trade (and sign up), some general categories and a tiny disclaimer at the bottom of the page – might want to check it out.
Trading
TradeRush offers a seemingly simple platform, but there is more to it than meets the eye. Regular binary options comprise the majority of its standard offer, with payout typically maxing out at 81% of your investment. The binary options on offer are a Call/Put variety, but there are plenty of One Touch and 60 second binary options if you fancy a slightly different experience. And unlike other brokers, when these guys say '60 seconds', they mean 60 seconds, as this is the 'standard' maturity period for their short term options. OptionsPro is a section dedicated to the professionals, with various features that only confuse laypeople, but the most interesting category by far is the 'Option Builder'. Here, you can tailor your own binary options according to your own taste and preferences. You can choose an asset, enter your Expiration Time (but only about 35-40 minutes ahead), select your own risk management setting (basically the return in case you win and the return in case you lose – yes, they give you some money back), how much money you wish to invest and just confirm the transaction. Very few brokers allow you to make your own binary options, let alone offer to return up to 80% of your money back in case you lose. The lower return rate you choose in case you win, the higher return you get in case you lose. However, maximum return on your wins if you choose this is 70%.
Funds
As for minimal deposit, TradeRush set its own at $200. Credit cards, wire transfer and even Neteller and Skrill are what TradeRush accepts.