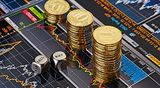 Options trading means you are trading options on stocks, or other assets, such as Forex, without owning the underlying stock or asset. Binary options trading has only two investment possibilities for you to predict and then choose between.
Options Trading – Understanding the Basics
Call/Put Order
---
Binary Options can be used to express ones view on the market just like when trading Forex, but instead of placing a Buy or Sell order, you use Call or Put options. If you buy a Call option, it means that your view on the market is bullish (you expect price to rise) and if you buy a Put option, your view on the market is bearish (you expect price to fall). The price you pay for buying a Call or Put is called a Premium. With binary options trading, an investor cannot lose more than the Premium paid for the Call or Put. Even if the underlying currency pair has a strong move against your position, the risk is limited because your Call or Put will expire worthless and cannot bring you a greater loss than the Premium paid. In order to understand what is options trading, call and put options are the essentials.
Types of Binary Options
---
If you bought a Call and price rises or if you bought a Put and price falls, your potential profit is unlimited. The more price moves in your desired direction, the more profit the option brings you. However, this is not the case with binary options. When options trading, both profit and loss are limited and the amount is known from the start. There are Different Types of Binary Options Methods. The most widely known and used are Up/Down Options and Binary One Touch Options.
Up/Down Options
---
With Up/Down Options, you bet on price being higher or lower than the strike price at the expiry time. If you bought the Up option and at expiry time, price is higher than the strike price, you win a fixed amount. It doesn't matter if price is higher by one pip or one hundred pips, you receive the same amount in both cases. If price is lower at the expiry time, you lose the Premium. The same principles apply for a Down option (of course, price needs to be lower at the expiry time).
Binary One Touch Options
---
When you trade Binary One Touch Options, you don't need price to be above or below your opening price at expiry time; you just need price to touch one time your predicted price. Let's say price now is 1.2500 and you buy a Binary One Touch for 1.2550. Expiry time is one hour away. 
Within that one hour, you need price to rise and touch 1.2550. If price goes to 1.2550 in 15 minutes, you collect the payout and it doesn't matter what price will do for the remaining 45 minutes. Sometimes Up/Down options can be riskier than One Touch Options because until expiration, price can go above your predicted price and return below it. In this case, you lose. If you trade One Touch option, when price reaches your predicted price, your transaction is automatically closed and you receive the payout. However, all options are risky and you must be very careful when deciding to invest and when Choosing a Binary Options Broker.
Options Trading – Bonuses and Promotions
---
Brokers may change their bonuses at any time, without prior notification. Binary Options Bonuses and Promotions are subject to special terms and conditions. If you want to benefit from their programs, please contact them and make sure you understand their bonuses as well as their terms and conditions.
Options Trading – Education Center
---
Please visit out Education Center to learn more about Binary Options and Trading.
This post is also available in: Arabic Bulgarian German Hungarian Romanian Serbian Turkish Vietnamese